As COVID-19 infection rates soared in central Texas, with record-breaking numbers of new cases and hospitals exceeding capacity, Rep. Chip Roy deserted his district, taking a road trip to visit a series of East Coast tourist destinations.
In a series of tweets over the first week of July, Roy recorded himself traveling, sightseeing, and visiting his family in Maryland. Neither he nor anyone photographed with him wore a mask to prevent coronavirus spread. Roy claimed his holiday photos and videos were evidence that he was "standing up for America."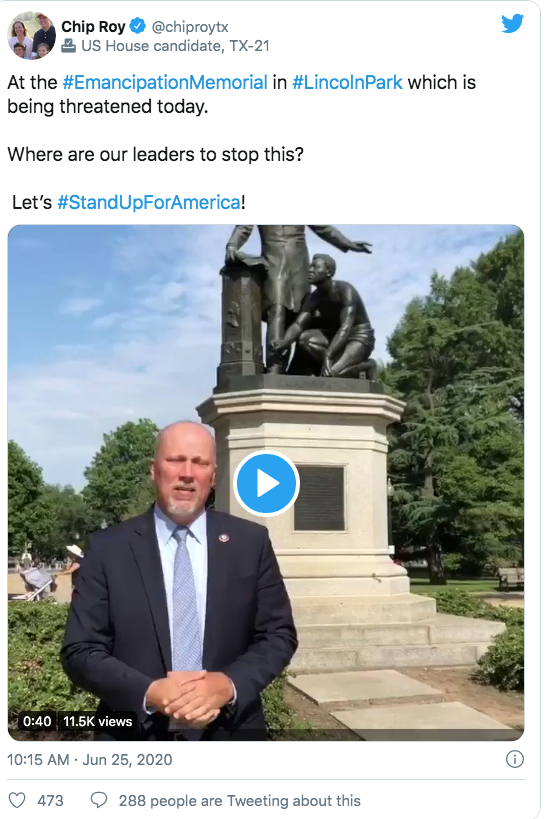 He characterized Americans who have questioned Confederate monuments as "a Twitter mob," to whom he would not "bow down"–even though none of the sites he tweeted from showed any evidence of protest.
As TX-21 residents looked for leadership in the midst of a public health disaster, Roy traipsed about the country, grandstanding and trying to stir up conflict between Americans. While Roy was on his solo "Stand Up For America" tour, 127 Texans died from the coronavirus. 
Roy's public statements about COVID-19 have sought to minimize the disease's impact, citing misleading information to falsely imply the disease is under control. With a current U.S. death toll of 133,000, the coronavirus has already killed twice as many Americans as the Revolutionary War that Roy is so obsessed with. His statue photo-ops were yet another attempt to distract Texans from the deaths and chaos mounting around us. They were also a clear-cut example of the lack of leadership that is causing so much unnecessary suffering in our country.